Standard - Extra Long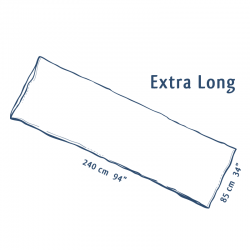 If you're on the tall side or like to burrow down into your sleeping bag, you might find that normal size sleeping bag liners are uncomfortable - they're just not long enough!
If that's you, then you might like to consider our Standard Extra Long range of JagBag Silk Sleeping Bag Liners.
These Extra Longs are a very generous 94 inches/240cm in length - that's just short of 8 feet long. The width is a very roomy 34 inches/86cm.
Because they're made of pure silk, these JagBags fold down to a tiny, space saving 5 inches/12cm square. They're also featherlight at just under 6 ounces/168g.