How do you know that you're buying quality products from a reputable site online? Unless you know the site or have had it recommended to you, there's always a slight doubt isn't there? We want to reassure you that Terrevista Trails provide great products and great service. Here are some comments satisfied customers have left over the past few months. These are real customers and the original emails are available to view.
We hope this feedback shows we're a reputable company but if you's like some more reassurance, give us a call or drop us a line and we'll be happy to answer any questions.
If you buy a Jag Bag from us, we don't pester you asking for a review nor do we send an email every few days telling you about our latest unbeatable offer. So, when a customer takes the time to write and say how much they like their Jag Bag we're always a bit pleased. We don't normally blow our own trumpet, we prefer to let others do that for us......
"Just wanted to say I love these bags, i discovered JagBags from finding one second hand but it was a bit beaten up. After I thrashed that one to bits I got one brand new and its been the best sleeping bag liner I've ever owned. Can't recommend enough - from a Kiwi!" - AK. New Zealand
"Many thanks for the first rate service. I received the deluxe Jag Bag by express delivery yesterday.
I purchased this bag for my son who is trekking to Base Camp, Nepal. I have had my own Jag Bag for several years now and wouldn't be without it when travelling."
Two generations of Jag Bag users
Customer in New Zealand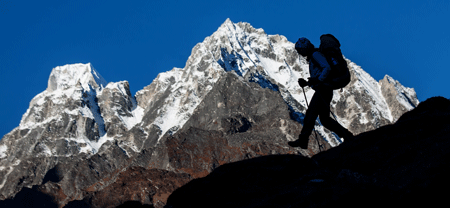 "Hi Paul - Liner received today as you said. Thank you so much for all your messages, help and understanding. You've been great and your company is too!" - DR, UK
Hi Paul - Hurray! The liners arrived this morning. They are just beautiful and will be perfect for our trip to Portugal.' - RM, Canada
'Thank you. Order received and the bag liner looks like a very nice product' TC - USA
'This is the second Jag bag I have bought. First one went to my lucky daughter fighting off the bugs on her travels. She loves it so much that now I have one too - ready for camping hols in Scotland. Famous for its beautiful scenery and huge Mozzies.' AH - England
'Just had to leave a post to say how happy I am with my purchase! I ordered the deluxe in Midnight and I am so impressed! A beautifully crafted product with a stunning colour combination! The service I have received from this company has been exceptional! I would especially like to thank Paul for rearranging delivery of my Jag Bag and being so helpful throughout the process. I will certainly be recommending your product and company to my friends and all the other people I encounter on my travels- I'm sure my Jag Bag will be the envy of many! Thank you again.' JC - Northants
'This is such a great company! The silk bags are quality crafted and beautiful. Not only is the product exceptional, but contacting the company is a breeze, and they went out of their way to match our deadline. Maybe customer care is making a comeback!' RL - USA
'Thank you Paul, my jagbag has arrived!! It is so pretty can't wait to use it.' KP - Canada
'Hi Paul, Wanted to let you know our order arrived on Friday so, perfect.
The service and product have been excellent.
Thank you ' - AS - Surrey
'...and thank you so much - am happy to report the bags have been to the north east of burma where they kept good company with chickens and goats - and were wonderful!!! thank you' - JM - Oxfordshire
'Thanks for your reply - much appreciated and great customer service!' - GM
'Hi guys, I just wanted to write and tell you how indispensable the jag bags we bought late last year have been. We used them regularly camping in Europe this late summer & autumn through Europe and Norway and they have been nothing short of perfect. They are still in perfect condition. At this stage, sorry but unless they are stolen, I won't need to buy anymore as they are so well made.....
Thanks for making such a great product!' - Alan - Australia
'Just wanted to say a big thank you for delivering the Jag bag. I bought it for my son who is about to travel to Thailand and then New Zealand and he absolutely loves it!
Thanks!' - JH - Edinburgh
'Hello Paul, Just to say we chose your extra wide Jag Bags to take on a very hot holiday, and they
worked a treat.They are very practical, mega comfortable and dyed in beautiful colour combinations.
Thank you for such good service and personal attention.' - EH - Merseyside
'Hi Paul, Fantatstic stuff. Thank you so much for making the customised silk liner as quickly as you can. Please thank Jenny for the extra care and effort she has put into making the customised silk liner. I imagine because it was a lot of silk/material it was like sewing a small tent! Jenny did really well in my opinion.' - CH - Singapore
'Just wanted to say how excellent your extra wide Jag Bags are. We took them to India, along with the silk pillow cases and they were so comfortable to sleep in. We have also used them in the UK when staying away overnight and they fold up to almost nothing, wonderful!' - MS
If you would like to leave feedback, please use the contact form. Alternatively, use the new 'Write a Review' feature on the product page to leave your comments and rate your Jag Bag and/or the service you received. We welcome all feeback, good and not so good. The not so good show where we can improve things - we like a challenge !