Silk Sleeping Bag Liners ......Essential Travel Equipment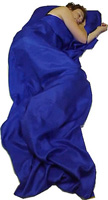 If you already use a silk sleeping bag liner you'll know just how versatile they are and how they just add so much to any travel experience.
But if you don't use a liner or have never heard of them or think they're only for campers and backpackers then consider just how a silk sleeping bag liner can help you -
Jag Bag silk sleeping bag liners are 100% pure silk. They are hand made by fairly paid, skilled, self employed machinists in New Zealand. There are no appalling working conditions or slave labour wages. We own Jag Bags and are proud to say they are ethically produced.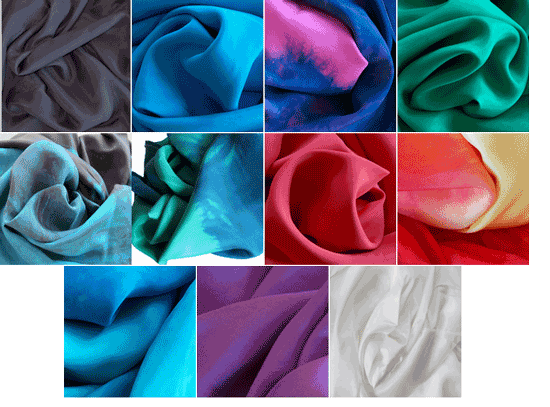 Another unique feature of Jag Bags is that they are hand dyed - although plain, undyed white is also available.
Dyes are either a single, solid colour or a combination of colours which give a smokey, swirling, tie dye affect.
Liners are dyed in small batches to ensure maximum colour saturation. Small batches also means that each dye produces slightly different results so you can be sure that your Jag Bag is unique - no-one else will have exactly the same shade or pattern as you.
| | |
| --- | --- |
| Top Row: | Black, Blue, Cerise, Jade |
| Middle Row: | Midnight, Paua, Red, Sunburst |
| Bottom: | Turquoise, Violet, White |
Here's a small video which shows our JagBag Deluxe
As well as Jag Bag silk sleeping bag liners, we also supply a range of useful travel accessories. Not big things, but the stuff that can make travel a little bit easier. Here's a small list.......
A recent customer commented that her JagBag " Made me dream of using it in exotic destinations..."
Isn't that better than your standard star rating?
Here's some nice feedback from one of our Hawaiian customers
August 14th 2017
A visitor called Krystyna left a question for us today asking about Jag Bag sizes. Unfortunately Krystyna, you didn't leave a contact email address so I hope this is what you're looking for -
Deluxe Extra Long Extra Wide Jag Bag - length is 103ins x 45ins (260cms x 115cms). The weight is 200g (7oz).
If you need any more information, please use our Contact form and we'll be happy to help.
January 2017
We had a nice comment posted on our Facebook page from a Canadian customer yesterday.
"I ordered a Deluxe single Jag Bag as a pre-Camino birthday gift for my mate, who is very broad-shouldered and a continual sleep tosser. He loves it! Thank you, Terrevista Trails, especially Paul in Scotland, who provided the most stellar customer service possible. You have two Canadian fans for life. Happy New Year!"
----------
Here's a nice email from a customer commenting on her purchase. We don't blow our own trumpet too much so it's a bonus to receive something like this:
"Many thanks for the first rate service. I received the deluxe Jag Bag by express delivery yesterday.
I purchased this bag for my son who is trekking to Base Camp, Nepal. I have had my own Jag Bag for several years now and wouldn't be without it when travelling."
Two generations of Jag Bag users
And here's a suitable pic!.
Going to South East Asia for the first time and wondering what to pack? Wonder no longer - checkout this blog post from Quarter Life Excursion, bit.ly/1UMihvd
You might notice he recommends taking a certain brand of silk sleeping bag liner........
...........................................................