Standard - Extra Long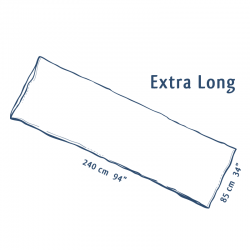 Are you taller than average? Does an ordinary length liner just cramp you up? Do you like to snuggle down into folds of silk?
In that case, the Extra Long JagBag liner might be what you're looking for.
They are a very generous 94 inches/240cms long (that's just short of 8 feet) and an equally roomy 34 inches/86cms wide. Despite their size, Extra Long JagBags pack down to a tiny, space saving 4.5x5ins/11.4x12.7cms.
Like all JagBags, the Extra Long style is extremely lightweight and folds down to less than the size of a paperback and weighs mere ounces (or grams)!
Weight: 5.9oz/168g